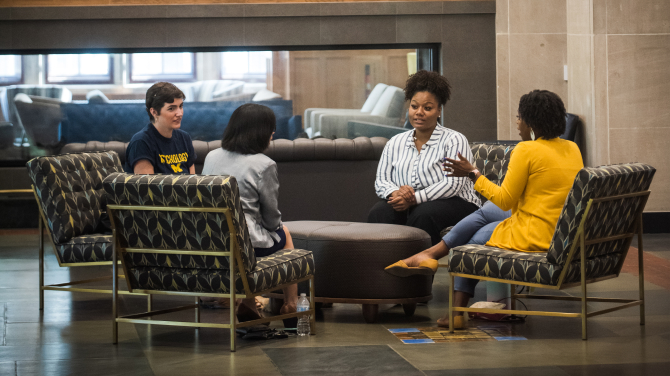 What is culture?
Culture is all around us. It's our environment. It consists of patterns of behavior that are supported by the shared experiences, values and beliefs of an organization.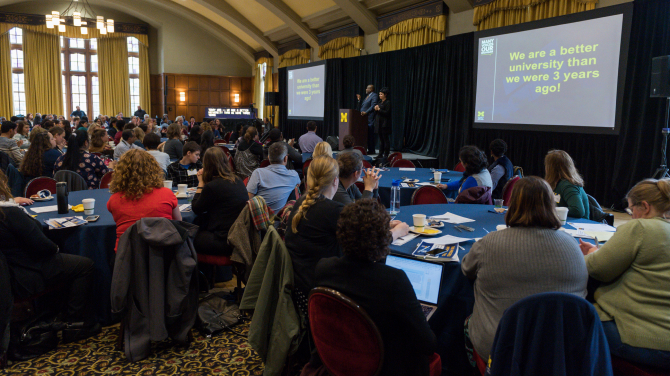 Why focus on values?
Establishing shared values is foundational to building a community that fosters trust and belonging. Values can guide our workplace behaviors, decision-making and how we treat one another. When behaviors are in line with values, acknowledged and rewarded we create our desired culture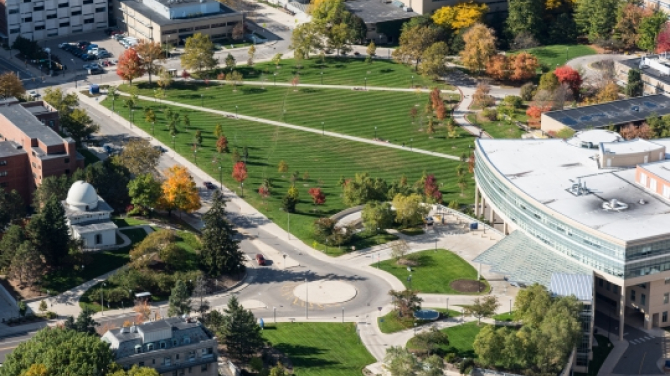 Scope
The scope of the Culture Journey is focused on developing supportive workplace behaviors and norms on the Ann Arbor campus and in Michigan Medicine. We are also looking into ways to further engage the broader community including Flint, Dearborn, and students.
Culture partners
Several partners across the university are working to enact meaningful policy and process reform, and develop and implement culture change at U-M, including the Office of Equity, Civil Rights and Title IX, the Ethics, Integrity & Compliance Committee, the Office for Diversity, Equity, and Inclusion, and many others.
Culture Change Values Identification Working Group

U-M faculty, staff and students who were members of the working group:

Co-Chairs
Patricia Hurn
Dean of the School of Nursing

Sonya Jacobs
U-M Chief Organizational Learning Officer, Senior Director for Faculty and Leadership Development at Michigan Medicine

Members
Zarinah Aquil
Project Manager, Office of the Provost

Ellen Bauerle
Executive Editor, University of Michigan Press

David Brown
Associate Vice President and Associate Dean for Health Equity and Inclusion, Michigan Medicine

Katherine Burson
Associate Professor of Marketing, Stephen M. Ross School of Business

Tabbye Chavous
Director of the National Center for Institutional Diversity

Blessing Egbuogu
Student Representative, Rackham

Maria Fields
Student Representative, North Campus

Sophia Fortunato
Student Representative, Central Campus

Hannah Glick
Student Representative, Medical School

Rachel S. Goldman
Professor of Materials Science and Engineering, Professor of Electrical Engineering and Computer Science, College of Engineering, Professor of Physics and Associate Director, Applied Physics, College of Literature, Science, and the Arts, and Sacua Nominee

Grace Haubert
Student Representative, Central Student Government

Freda Herseth
Professor of Voice, School of Music, Theatre & Dance

Anne Huhman
Associate Director, Sapac, Student Life

Reshma Jagsi
Director of the Center for Bioethics and Social Sciences, Michigan Medicine

Tiffany Marra
Director of the Center for the Education of Women.

Sascha Matish
Associate Vice Provost and Senior Director of Academic Human Resources

Patty Petrowski
Associate Vice President and Deputy General Counsel

Byron Roberts
Deputy Chief of Staff, College of Engineering

Tami Strickman
Associate Vice President for Institutional Equity

Katrina Wade-Golden
Deputy Chief Diversity Officer

Eric Ward
Project Representative, Office of Research and Sponsored Projects, and Voices of the Staff Representative

Staff Support
Carol Lee
Chief of Staff, Organizational Learning

Jane Pettit
Director of Programming, Organizational Learning

Carmeda Stokes
Strategic Initiatives Consultant, Organizational Learning

Sara Wiener
Project Manager, Organizational Learning